Zen meditation session on Zoom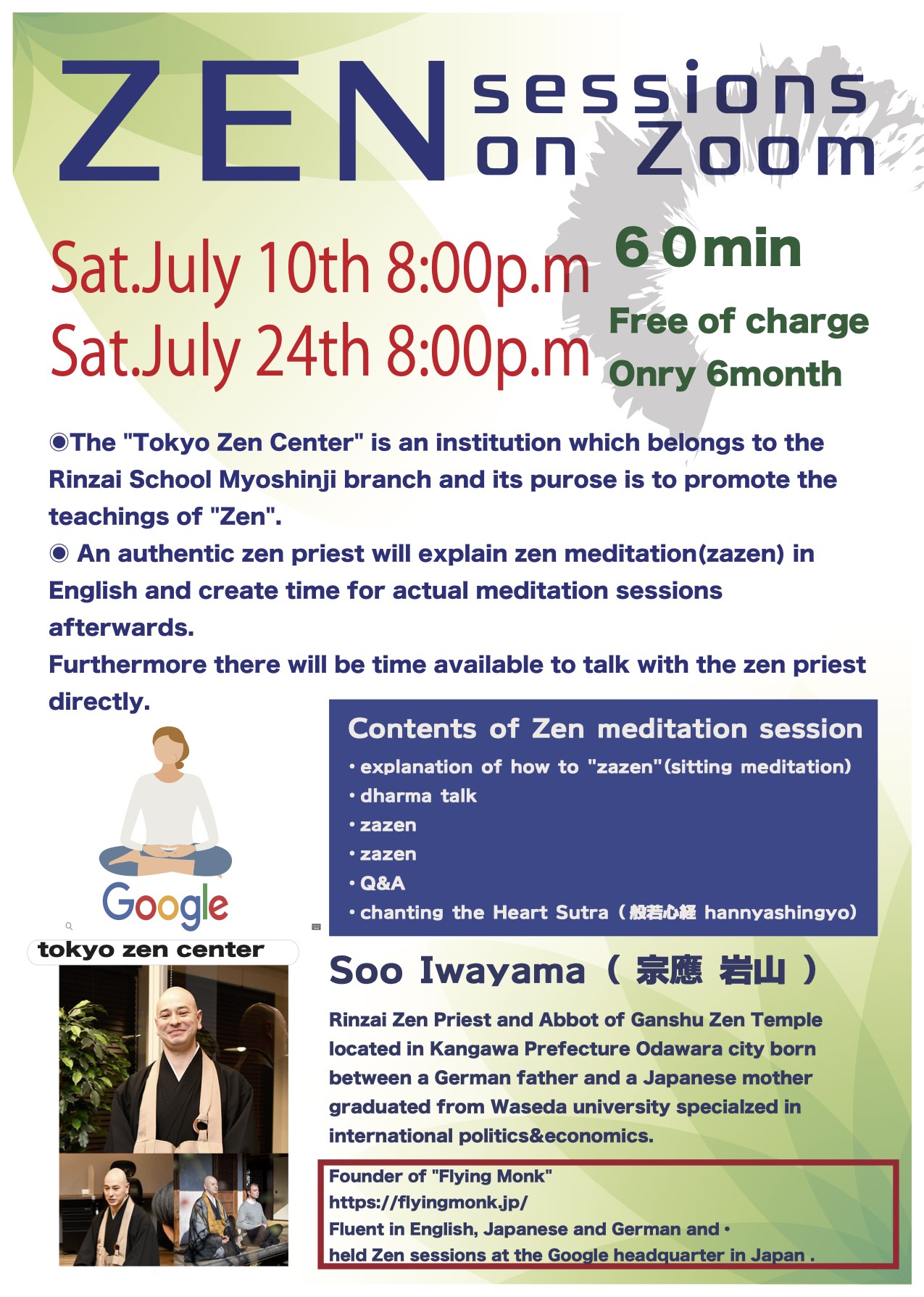 ●60min
◉The "Tokyo Zen Center" is an institution which belongs to the Rinzai School Myoshinji branch and its purose is to promote the teachings of "Zen".
◉ An authentic zen priest will explain zen meditation(zazen) in English and create time for actual meditation sessions afterwards.
Furthermore there will be time available to talk with the zen priest directly.
Contents of Zen meditation session
・explanation of how to "zazen"(sitting meditation)
・dharma talk
・zazen
・zazen
・Q&A
・chanting the Heart Sutra (般若心経 hannyashingyo)
Notes on participating in online zazen meditation
1.Please note that the zazen meditation session may be delayed or suddenly canceled due to the internet environment on both sides.
2.The Zoom app is used during the sessions so account names and video appearances can be viewed by other participants. If you do not want to share your video, turn off "Start Video", you do not want to share your account name, change the name and please join.
3.During the zazen meditation all participants are set on mute in order to progress the session smoothly.
If zoom is full, it will be delivered live on YouTube.
A Profile
・Soo Iwayama (宗應 岩山)
・Rinzai Zen Priest and Abbot of Ganshu Zen Temple located in Kangawa Prefecture Odawara city
・born between a German father and a Japanese mother
・graduated from Waseda university specialzed in international politics&economics
・Founder of "Flying Monk" https://flyingmonk.jp/
・Fluent in English, Japanese and German and ・held Zen sessions at the Google headquarter in Japan